SEOBOOK and Jason Calacanis
Comments Off

on SEOBOOK and Jason Calacanis
Affiliated but anything with (NP) is not paid for
Ok you notice the little Affiliated at the top of this post, well that's because I am and I wanted full transparency.
Ok Jason Calacanis say that Bloggers should get Paid !! he also said that Pay for Post is Bad… hmm Jason I would love you to clarify this .. In the past I have been Harsh, no Very Harsh, but today I got your Jason Calacanis linkedin request(NP) , not sure if that's an olive branch, a mistake or something totally different.
anyway How do bloggers get paided ..
well this blog revenue comes from ReviewME (NP) which has made me like $375 not bad and in all fairness, the products i have reviewed, if I was asked to do them Free, I would have.
Adsense well that was a cluster fuck and waste of time.
Ok the Affiliate bit , That's the Seobook Bit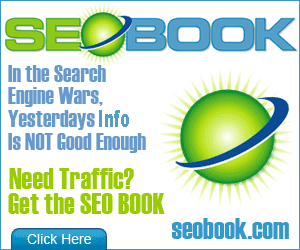 ok That's an Affiliate link, but in all honesty I would link the Aaron's Book in a blink of an eye. WHY? it's simple Me and Greg Boser (NP) had to pitch to a Corp Client, in hind sight i should have said have you read Aarons book it will give you a better understanding of what we are going to do and talk about. Now I'm not saying that buying the book and you will be as good as Me or Greg .. of course you never will be because we live and breath this industry 24hrs a day, while you have a On-line Business to Run and that's what you should be doing anyway… Buy The book !
ok thats the Aff stuff over.
Ok so anyway back to Jason http://www.calacanis.com/ (NP), I did accept your LinkedIn request and I will recommend you to my friends, I think you are passionate in what you do, even if sometimes we sit at the opposite ends of the table … sometimes!